Japanese Cast Iron Teapots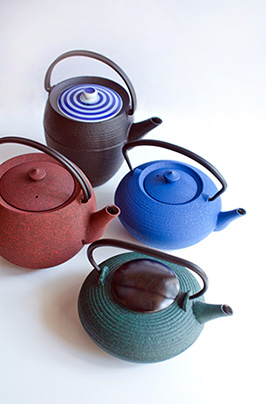 All About Our Cast Iron Teapots
- Every teapot is produced from a traditional Japanese iron mold.

- The outside is finished with oxidized non-toxic acrylic paint.

- Each cast iron pot is individually hand-crafted.

- As a result, each pot will have slight differences in color, finish and texture.

- This means each and every LUPICIA cast iron pot is a "one of one" unique creation.
Caring For Your Cast Iron Teapot - Guidelines
To prolong the life of your Cast Iron Teapot and enjoy its benefits to the fullest, please follow these guidelines:

- The teapot can be heated up with a candle warmer, but not with direct fire or over an open flame.

- The teapot may be used for Japanese, Chinese or black teas.

- When using the teapot, the lid and handle may become hot so please take care when handling it.

- Your teapot may be affected with tea residue, which can leave a stain on your table or surface. To prevent this, a coaster should be used.

- Don't heat an empty teapot as this can damage the finish on its surface.

- Take care not to drop the teapot or hit it against something hard. This can cause damage to the teapot itself as well as affect its colouring.

- Take special care of the spout and the knob of the lid as these can be easily damaged.

- The teapot, lid and strainer are all made from iron/steel, so take care not to grind them against one another, as this could damage the pot's coloured surface.

- After use, ensure that any moisture both inside and outside the teapot is wiped away so as to prevent the likelihood of rust forming.

- Keep the strainer and lid separate when not in use so as to prevent any rust forming.

- If you manage to break a lid, we have replacement ones available

- When the teapot is not in use, please ensure that it is kept in a dry place free of any moisture.

>View our cast iron teaware range