Taiwan Oolong Tea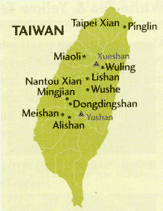 Taiwan is one of the most popular tea-producing regions in the world having produced tea for home use since ancient times. Later, immigrants from Fujian, China started producing oolong tea using imported methods. From 1895-1945, under Japanese rule, several tea testing centres were established and full-scale production and export of different types of tea began. After WWII, some tea plantations were destroyed, but in the 1970s - 1980s, overall improvement of tea species, cultivation and factory facilities helped establish the "Taiwan Oolong brand" with its sophisticated quality and flavour. Today, Dongding Oolong and other "high mountain oolongs" produced in the alpine regions (over 1000m altitude) now surpass mainland Chinese oolong teas.
Taiwan Oolong tea seasons
Taiwan is an island located east of China and south of Japan. It has a large mountain range in its central area with its highest mountain being Yushan at 3952m. Areas located in the foothills of the mountains between 500m - 1000m experience a wide range of temperatures and 4 distinctive seasons. This geographic feature produces superb Taiwanese Oolong tea with distinct seasonal flavors: Spring tea, Summer tea, Autumn tea and Winter tea.
Please refer below for characteristics of each seasonal tea:

Spring oolong tea



It truly tastes like newly-picked tea with a full body and spring vitality.


Summer oolong tea



As abundant leaves can be harvested, its price is very reasonable. Suitable for everyday tea.


Autumn oolong tea



The season when high-quality tea can be obtained at a relatively reasonable price.


Winter oolong tea



The most popular, highest quality tea, but with the lowest level of supply since it can be only moderately harvested. Winter oolong has a superior balance of taste.




Oolong tea producing regions in Taiwan
The main tea producing regions in Taiwan are Nantou Xian, the mountainous areas in the centre of the island and Taipei Xian, the lower altitude areas in the north around Taipei and its hinterland.
Nantou Xian Region
The most famous Nantou Xian teas are Dongding Oolong, Mingjian and Meishan all of which are high altitude, high quality teas. Other high quality high mountain Nantou Xian oolongs produced at over 1000m include Alishan and Lishan
Taipei Xian Region
Maokong, South Taipei, is well-known for Mu Zha Tie Guan Yin, and Pinglin, East of Taipei, is famous for Wen Shan Bao Zhong.
Names and species of Taiwanese Oolong tea
The names of Taiwanese tea are generally indicated by "place name + species name".
For example, "Alishan Jinxuan" means a tea of Jinxuan species produced in the Alishan mountain region. New species with a distinctive aroma are specified and include Jinxuan (milky aroma), Sijichun (refreshing flavour), Cuiyi (slightly lighter aroma of Jinxuan). In contrast, the traditional Qingxin specials has the characteristic of a long lasting aroma and is commonly referred to as simply "oolong" in the local Taiwan industry.
Our most popular Taiwan Oolongs
- Four Seasons Mingjian (Ming Jian)